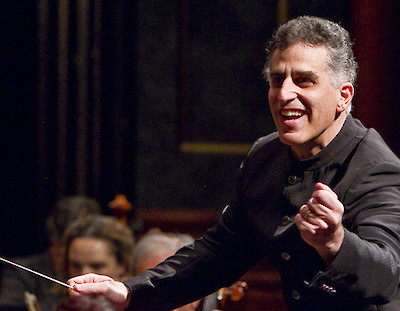 Feb 16, 17, 2019
, , , , ,
Notes on the Program by Dr. Richard E. Rodda
Chasing Light ... (2008)
Joseph Schwantner composed Chasing Light... in 2008 as part of the Ford Made in America
a partnership program of the League of American Orchestras and Meet The Composer. He wrote of it, "One
of the special pleasures of living in rural New Hampshire is experiencing the often brilliant and intense
early morning sunrises, reminding one of Thoreau's words, 'Morning is when I am awake and there is a
dawn in me' (Walden). Chasing Light...draws its spirit, energy and inspiration from the celebration of
vibrant colors and light that penetrate the morning mist as it wafts through the trees in the high New
England hills. Like a delicate dance, those images intersected with a brief original poem that helped fire
my musical imagination.
Chasing Light ...
Beneath the sickle moon,
sunrise ignites daybreak's veil
Calliope's rainbowed song
cradles heaven's arc
piercing shadowy pines,
a kaleidoscope blooms
morning's embrace
confronts the dawn
Each movement's subtitle is associated with a pair of lines from the poem.
"Sunrise Ignites Daybreak's Veil " (Con forza, feroce con bravura) opens with an introduction containing
three forceful and diverse ideas presented by full orchestra: (1) a low rhythmic and percussive pedal point
followed by (2) a three-note triplet figure in the brass overlaid by (3) a rapid swirling cascade of arch-like
upper woodwind phrases cast in a stretto-like texture [i.e., close imitative entries]. These primary elements
form the melodic, harmonic and rhythmic materials developed in the work.
"Calliope's Rainbowed Song" (Lontano [distantly]). The rapid, arched woodwind phrases in the
introduction to the first movement occur in a variety of divergent contexts throughout the work. Cast in an
arch-like palindrome form, this movement begins softly, first with solo clarinet followed by a repeated
piano sonority that forms the structure of a theme played by solo flute. Gradually, this theme builds to an
exuberant midpoint, followed by sections that appear in reverse order, finally ending quietly and gently
with solo clarinet and an ethereal violin harmonic that carries over to the third movement.
"A Kaleidoscope Blooms" (Lacrimoso [tearfully]), a slow, expressive and elegiac movement for
oboe, opens with a low, dark repeated pedal note played by piano, contrabass and gong. Sudden rapid
woodwind gestures contrast and frame a succession of gradually ascending oboe phrases that
accumulate ever-greater urgency as the music approaches its maximum intensity at the end.
"Morning's Embrace Confronts the Dawn" (Lontano...leggiero [lightly].) The rapid and aggressive
woodwind phrases in the first movement now emerge in delicate and shimmering string textures. These
earlier elements prepare for a stately but urgent chorale theme that builds forcefully to the palindromic
music of the third movement, the introductory materials of the first, and a final climactic conclusion.