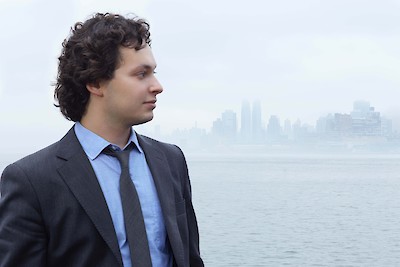 Mar 8, 2019
Marquis Music New EP Release (MAR493)- Yevgeny Kutik's "Meditation on Family."
, , , , ,
Meditations on Family features new works inspired by memories and tradition. A series of weekly musical meditations commissioned by violinist Yevgeny Kutik, culminating in the release of an EP on March 8.

The Background Violinist Yevgeny Kutik says:
"Almost everything I know about my family's history and culture I learned by sitting at dining room tables for years on end listening to relatives share stories of what life was like in the USSR. Thanksgiving of 2017 was no different. After hours of collective story-telling, my grandmother Luba shared her memory of dropping my immediate family off at Minsk airport in 1989 to say goodbye and see us off to our new life in the west. During the mass Jewish emigration from the Soviet Union in the 1980s, leaving the USSR meant going into the unknown with few resources and belongings. I decided to put music to family memories and stories.

I asked composers I admire to choose their own family photo, a photo that conjures up memories of joy, sadness, unity, and longing, and to translate that photo into a short work for violin. The result is eight musical meditations, written by eight different voices, each inspired by their own family story and tradition. Here are Meditations on Family."

The Meditations
Starting Friday, January 18, and every Friday through March 8, Marquis and Yevgeny will digitally release a brand new "meditation" commissioned for the album. Each piece was inspired by a personal family photograph chosen by the composer. The recordings were produced by four-time Grammy-winning producer Jesse Lewis. We will release Meditations as an EP on March 8.

Here are the release dates for the recordings. You can hear each piece, see each photograph, and follow along on Yevgeny's new website.

Watch a video from Meditations. This is a beautiful and powerful performance of Joseph Schwantner's "Daydreams…".

The Music
Jan 18: Christopher Cerrone - Flight to Limbo
Jan 25: Gity Razaz - Cadenza for the Once Young
Feb 1: Andreia Pinto-Correia - Litania
Feb 8: Kinan Azmeh - Rima
Feb 15: Gregory Vajda - How to Draw a Tree
Feb 22: Paola Prestini - Suitcased Dreams
Mar 1: Timo Andres - See Above
Mar 8: Joseph Schwantner - Daydreams… https://www.youtube.com/watch?v=A_MfLKJLeIw
Mar 8: Full EP out on Marquis Classics

Here is the first meditation: Listen

Chris Cerrone - Flight to Limbo

"Flight to Limbo" borrows its name from a John Updike poem but is ultimately inspired by a photo of my father as a very small child in Italy in 1947. He had suffered from a terrible case of pneumonia, and being rural farmers during a world war, there was little chance to save this very sick child. His local priest prepared him for death in the pictured ceremonial garments. Luckily, he miraculously survived, recovered, and is still with us today. When composing my violin piece for Yevgeny Kutik, I tried to imagine my father in this moribund state, near death, and barely able to breathe despite enormous effort.