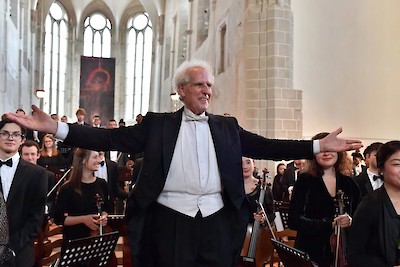 Boston Symphony Hall, , , , ,
Read More...
Benjamin Zander- Conductor
Program:
BRITTEN
The Young Person's Guide to the Orchestra
SCHWANTNER
New Morning for the World
HOLST
The Planets
All three of the works on this program display an astounding mastery of the colors and the virtuosity of a modern large orchestra. But of special interest is the second piece, Joseph Schwantner's New Morning for the World, a gorgeous kaleidoscope of sound, or rather an opulent sonic wave that rolls in from afar and gradually inundates you with its radiance. But there is struggle in those sounds, and defiance as well. And at the heart of it all are spoken words, the words of Dr. Martin Luther King, Jr., taken from his speeches and other writings. Those inspired words pointed towards an uplifting way forward through difficult times when they were first heard during the 1960s, and they have just as much relevance during our time – particularly at this very troubled moment in our history.
In the spirit of equality for all that was at the heart of King's message we have preceded Schwantner's work with Benjamin Britten's A Young Person's Guide to the Orchestra. A solo for each of the principal players in the orchestra is embedded in this ingenious piece, each one a variation on the theme by Henry Purcell that forms the basis of the work. Ever since Britten composed it in 1945 it has been a favorite work for explaining to children what the different instruments are, and it has been a favorite with audiences for its beauty and variety and its thrilling finale.
And the second half of the program is Holst's The Planets, which hardly needs an introduction. Some years back it was voted the second most popular piece of classical music – narrowly nudged out of first place by the Beethoven Fifth. Holst used the astrological associations of the planets as a kind of program – or rather pretext – for the work, but the real substance is its range of sounds, the huge spectrum of orchestral timbres and combinations (how often does one get to hear a bass oboe?), from the grandiose to the eerie, culminating in a wordless, almost inaudible women's chorus way in the distance, as if from the farthest reaches of the solar system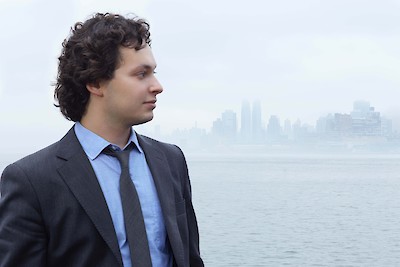 Marquis Music New EP Release (MAR493)- Yevgeny Kutik's "Meditation on Family."
, , , , ,
Read More...
Meditations on Family features new works inspired by memories and tradition. A series of weekly musical meditations commissioned by violinist Yevgeny Kutik, culminating in the release of an EP on March 8.

The Background Violinist Yevgeny Kutik says:
"Almost everything I know about my family's history and culture I learned by sitting at dining room tables for years on end listening to relatives share stories of what life was like in the USSR. Thanksgiving of 2017 was no different. After hours of collective story-telling, my grandmother Luba shared her memory of dropping my immediate family off at Minsk airport in 1989 to say goodbye and see us off to our new life in the west. During the mass Jewish emigration from the Soviet Union in the 1980s, leaving the USSR meant going into the unknown with few resources and belongings. I decided to put music to family memories and stories.

I asked composers I admire to choose their own family photo, a photo that conjures up memories of joy, sadness, unity, and longing, and to translate that photo into a short work for violin. The result is eight musical meditations, written by eight different voices, each inspired by their own family story and tradition. Here are Meditations on Family."

The Meditations
Starting Friday, January 18, and every Friday through March 8, Marquis and Yevgeny will digitally release a brand new "meditation" commissioned for the album. Each piece was inspired by a personal family photograph chosen by the composer. The recordings were produced by four-time Grammy-winning producer Jesse Lewis. We will release Meditations as an EP on March 8.

Here are the release dates for the recordings. You can hear each piece, see each photograph, and follow along on Yevgeny's new website.

Watch a video from Meditations. This is a beautiful and powerful performance of Joseph Schwantner's "Daydreams…".

The Music
Jan 18: Christopher Cerrone - Flight to Limbo
Jan 25: Gity Razaz - Cadenza for the Once Young
Feb 1: Andreia Pinto-Correia - Litania
Feb 8: Kinan Azmeh - Rima
Feb 15: Gregory Vajda - How to Draw a Tree
Feb 22: Paola Prestini - Suitcased Dreams
Mar 1: Timo Andres - See Above
Mar 8: Joseph Schwantner - Daydreams… https://www.youtube.com/watch?v=A_MfLKJLeIw
Mar 8: Full EP out on Marquis Classics

Here is the first meditation: Listen

Chris Cerrone - Flight to Limbo

"Flight to Limbo" borrows its name from a John Updike poem but is ultimately inspired by a photo of my father as a very small child in Italy in 1947. He had suffered from a terrible case of pneumonia, and being rural farmers during a world war, there was little chance to save this very sick child. His local priest prepared him for death in the pictured ceremonial garments. Luckily, he miraculously survived, recovered, and is still with us today. When composing my violin piece for Yevgeny Kutik, I tried to imagine my father in this moribund state, near death, and barely able to breathe despite enormous effort.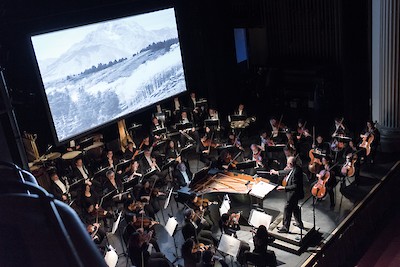 New Haven Symphony Orchestra
, , , , ,
Read More...
New Haven Symphony Orchestra
To Thee We Sing
Thursday • April 4 • 7:30 pm
New Haven Symphony Orchestra, The Lyman Center for the Performing Arts, New Haven, CT
The NHSO marks the 80th Anniversary of Marian Anderson's groundbreaking performance at Lincoln Memorial with a concert that celebrates the perseverance of the human spirit and the ability of music to speak to power. This resonant, poignant performance will use words, art, and music to commemorate and examine what it means to be an American.
Program:
Copland A Lincoln Portrait
Copland Down a Country Lane
Copland John Henry
Copland Letter from Home
Schwantner New Morning for the World ("Daybreak of Freedom")
Roumain Hip-Hop Essay Part 1- Dance
Traditional My Country Tis of Thee
Traditional Songs from the Underground Railroad
Picker Old and Lost Rivers
William Boughton, conductor
Elliot Forrest, multimedia visual artist
All-City Orchestra